With so many personalities fighting for your attention on the internet, it's rare to come across one which clings to your thoughts after you close your browser.
I discovered Adele Mildred through an article in Another Magazine last January and have been meaning to look her up ever since. My interest in her began simply as an appreciation of her personal style, but a little research revealed her talent and creativity  in other wonderful ways.
As the head of Atelier at Stephen Jones Mildred oversees twenty five milliners who help create not only Stephen Jones' own line, but also the hats for some of the world's leading fashion houses. Describing the milliners as "a bunch of old ladies sitting around a table gossiping and making hats!", Mildred paints a very different picture from the hectic studio environment I had envisioned.
"Every week we're working with new materials and new things I never thought we'd do. Stephen does completely different things with every designer he works with and uses the most brilliant techniques. He's never, ever wrong!"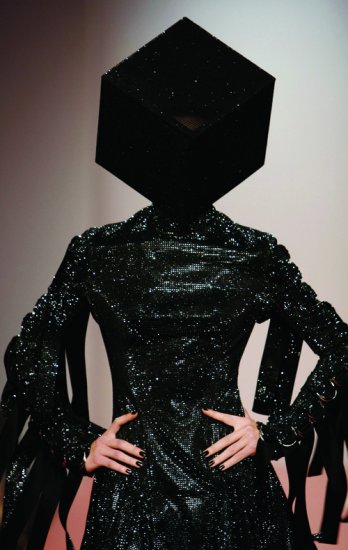 Stephen Jones for Gareth Pugh
Stephen Jones for Dior
Before her appointment at Stephen Jones, Mildred studied fashion in San Francisco. She tried her hand at running her own label, Cotton Candy, a "deconstructed circusy line of bright stripes and bunnies that was creepy but fun", but it turned out to be too much work and not enough fun. By focusing on creating one off pieces for friends (such as Dita von Teese, who introduced her to Jones), Mildred made time for her art, with her paintings being shown at many LA exhibitions.
"I didn't know anything when I met [Jones]," recalls Mildred, "I knew I liked hats but I didn't know basic techniques. Through him I learnt millinery could be like art."
Dita von Teese in an Adele Mildred hat
Adele Midred hat
You can explore more of her hats and work on her website, where she's summed up in her bio:
Adele Mildred is an anomaly in the modern world. She is fascinated with the unorthodox and finds most of her inspiration comes from the century between 1850 and 1950. From Edwardian etiquette to Old Hollywood glamour, she incorporates the most unique and pleasing aspects of each era into her diverse body of artwork and clothing. Adele's wild animal portraits combine carnivore folklore, Victorian mourning mementos and Twenties ornate decor. Finding little distinction between art and fashion, she is inspired by the likes of Grandeville and Erte, not quite sure which is the designer and which is the artist.